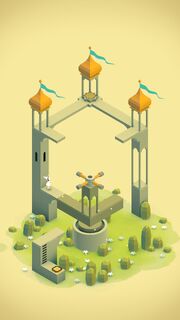 In which Ida embarks on a quest for forgiveness
Chapter II: The Garden
is the second level in Monument Valley. It introduces a new gameplay mechanic: the button. The player's goal is to reach the top of the structure by rotating the platform.
Characters
Edit
This is the first level where Ida returns one of the many Sacred Geometry.
Ad blocker interference detected!
Wikia is a free-to-use site that makes money from advertising. We have a modified experience for viewers using ad blockers

Wikia is not accessible if you've made further modifications. Remove the custom ad blocker rule(s) and the page will load as expected.